It is important to have your hearing evaluated if you suspect you may have a hearing loss. It is also a good idea to have a hearing test if you're over the age of 55, have a family history of hearing loss, worked in noisy environments, have a ringing or buzzing sound in the ear(s). A hearing exam prior to noticing any hearing issues provides a baseline for the hearing specialist to help track any future hearing loss.
What is a hearing evaluation?
A Hearing Evaluation is the first step in diagnosing your individual needs. It enables us to determine both where you are hearing well, and where we may need to focus treatment.
These tests are used to determine the extent, type, and details of your particular hearing loss and are performed by one of our licensed hearing care professionals. During these quick tests, we uncover the information needed to provide you with the best solution possible. The entire evaluation should last for between 20-40 minutes. Once the test is complete, we will spend some time talking about your results and make a recommendation for the next course of action.
After your evaluation
After your evaluation is complete, we will spend some time discussing the results. We will carefully outline our findings and our professionals will make a recommendation based on your needs. During this time don't be afraid to ask questions. We want you to be comfortable and informed. After all, hearing care is a journey, not a quick fix.
Why do I need to get a hearing evaluation?
A complete evaluation identifies hearing loss and gives us important information needed to provide help. Since there are different types of hearing loss, each needs to be treated in a specific way. This evaluation uncovers key information that tells us where and how to focus treatment.
If it is determined that you could benefit from hearing devices, we offer a wide range of the latest technology, and can recommend the right solution for your needs.
Can I bring someone with me?
Yes! In fact, we encourage you to bring a family member or loved one to your evaluation. Since hearing loss effects more than just you, it's beneficial to bring someone you trust to help digest the information and recommendations.
Diagnostic Hearing Evaluations
Diagnostic hearing evaluations are painless and take only about an hour of your time. At Palm Beach Hearing Associates, we use specialized equipment to determine how well you hear. With an audiometer and other tests, we evaluate how well you detect and understand speech and help define the unique aspects of your hearing loss. Our experts examine people of all ages, from newborns to seniors. The types of tests performed are determined by your age and a physical check of your ears.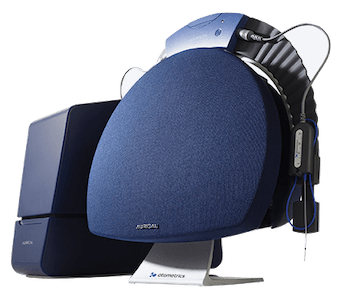 These are some of the exams we include in a diagnostic hearing evaluation:
Air conduction testing (pure-tone testing)
Bone conduction testing
Speech testing
Tympanometry or acoustic emittance testing
Otoacoustic emissions (OAE) screening
Auditory brainstem response (ABR) and auditory steady-state response (ASSR) testing
For most people, the first three or four tests are used in diagnostic evaluations.
An air conduction test determines how well you hear tones at low and high frequencies. Bone conduction testing helps to find out if your hearing loss originates from the outer/middle ear or from the inner ear. Speech testing allows us to confirm the results of a pure tone test and determine the lowest level at which you recognize words and speech.
In addition to these tests, our audiologists may examine your ear canal (otoscopy) and measure the function of your middle ear and eardrum (tympanometry). With the results of these exams, our experts can determine if your hearing loss is conductive, sensorineural, or both.
It's important to check with your health insurance company before coming in for a diagnostic hearing evaluation. Most companies cover the exam, but some may require a referral.
QUESTIONS? CONTACT US!
Hearing Test Results
We set aside about an hour or so for your appointment. The hearing evaluations take about 20 to 40 minutes and then we review the test results with you and answer any questions you may have. If the results indicate you would benefit from hearing aids, we'll discuss those options as well.
Preparing for the hearing tests is easy. Bring along your medical history and a list of any drugs you may take as well as a list of any issues you've noticed regarding your hearing. If you have any balance problems, if your work involves high levels of noise or if you experience tinnitus, be sure to mention these items to your hearing health professional.
For many people, treatment includes hearing aids. Our audiologists and board-certified hearing aid specialists at Palm Beach Hearing Associates use the results of your hearing evaluation to determine the best style and type of hearing aids for you. If medical or surgical treatments are required, we will explain your options.
Many people find it's more comfortable to have a friend or family member along for support. We encourage you to do so. Often it helps put you at ease during the hearing tests and while discussing your treatment alternatives.
---
Live Speech Mapping
How live speech mapping works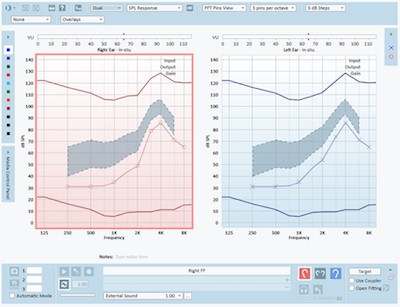 If test results indicate you would benefit from hearing aids, our experts assist you in finding the best hearing product for your needs. We then program the devices to your unique hearing loss. Live speech mapping is a programming process we use to ensure you have the most precise settings for your specific hearing loss. This technique is very accurate, resulting in fewer office visits for you. 
How live speech mapping works
Live speech mapping uses small microphones placed in the ear canal to help determine how you hear speech. During the procedure, these microphones sit in the ear canal along with your hearing aids. As a family member or friend speaks, you gauge how well you hear live voices. Our hearing experts use a special screen to see what you're hearing -- in real time -- and make adjustments to your hearing aid settings, providing immediate results.
Live speech mapping results in better hearing aid fittings, better understanding of speech through your hearing aids and instant results. Many people say they're more confident and comfortable wearing hearing aids after the live speech mapping process.
For your diagnostic hearing evaluation, call Palm Beach Hearing Associates at our Palm Beach Gardens office at 561-500-3277 or our Boynton Beach office at 561-708-6246. Better hearing starts here!