Phonak Hearing Aids
Phonak hearing aids are designed to automatically adjust to the listening environment, and their latest AutoSenseOS 3.0 program works to provide the best combination of programs and settings for the sounds around you. Phonak is known for delivering exceptional sound quality from the very first fitting, and amazing speech understanding in even the toughest listening environments. You'll enjoy reduced listening effort as the Phonak platform analyzes the environment and helps you focus on the sounds that are important.
VIEW HEARING AID STYLES
Audeo Paradise
There's nothing like the sound of Paradise
Comprised of all-new hardware, Audéo Paradise excels in hearing performance and hosts several elevated features. The result?A hearing aid that delivers an unrivaled* hearing experience:
Crisp natural sound: Hearing is a complex process. It starts at the cochlea, where sound is first perceived, and finishes at the brain where we experience the sound. Phonak Paradise has been created to deliver crisp natural sound for you to enjoy the wonders of the world as they should be heard.
Brilliant speech understanding: Understanding someone who is speaking softly or from a distance in a quiet environment can be challenging. Speech Enhancer boosts soft-level speech so you are able to enjoy conversations with friends, colleagues and loved ones.
Personalized noise canceling: It sometimes takes effort to follow conversations when speech is coming from the front and noise is coming from the side and back. This can often vary depending on the type of room you are in, or even how you feel at the time. With the Dynamic Noise Cancelation you can personalize the amount of noise cancelation you want all in real-time – all through the myPhonak app.
Voice assistant access with a tap: Imagine answering phone calls, streaming or pausing music, and activating voice assistants just by tapping your ear. A motion sensor in Phonak Paradise offers you an effortless way to do all that and more. The built-in microphone allows you true hands-free calls and voice assistant activation.
Connects to smartphones, TV and more: Phonak Paradise connects directly to your iOS®, Android™ or other Bluetooth®-enabled devices so you can stream audio in excellent quality directly to your hearing aids. Plus, as an added convenience, you can simultaneously connect to two Bluetooth devices and seamlessly alternate between the two.
Empowering smart apps: Control your Phonak Paradise hearing aids, access useful features and personalize your settings all through the myPhonak app. It's the best way to get the most out of your hearing aids.
Virto Marvel Titanium
The new Marvel platform expresses our boundless commitment to improve hearing without limitations. Offering excellent hearing performance, speech understanding and sound quality – regardless of the listening environment. What sets the Marvel platform in a league of its own is not just the individual features alone, but the combination of all. They feature all of Phonak's cutting edge technologies integrated into one cohesive system, working harmoniously together. The latest generation of super discreet custom hearing aids made from titanium.
Love at first sound: Virto Marvel hearing aids have exceptional sound quality from the first fit.1 It automatically adapts to every sound environment so there is no need to manually adjust the hearing aids.
Super discreet: Virto Titanium is the smallest Phonak hearing aid ever. It is so discreet, that nobody will see how well you hear.
Custom-made from Titanium: Virto M-Titanium is custom-made to fit perfectly in your ear. Made from titanium it is incredibly strong, light and durable.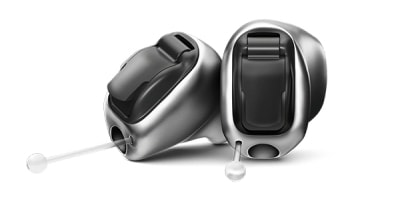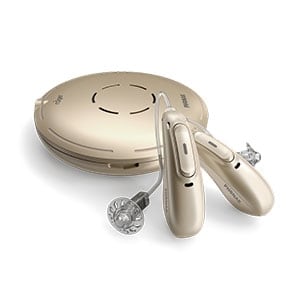 Audeo Marvel
The latest hearing aid in the Audeo family is Marvel, and it features Phonak's Binaural VoiceStream Technology, allowing you to understand speech like never before. You'll hear everything that's being said not only in the ear closest to the sound source, but in the other ear as well, and this increases speech understanding and reduces listening effort.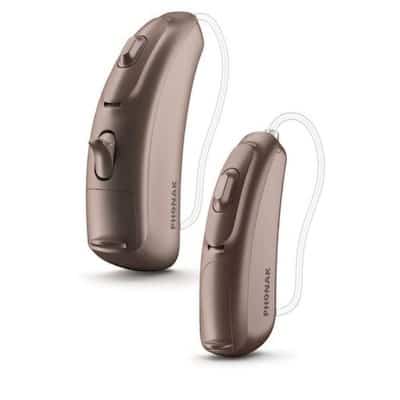 Audeo B
The Audeo B is a favorite among Phonak users, and it features easy listening with the AutoSenseOS system, as well as rechargeable technology and world class hearing performance. The Audeo B devices are also Bluetooth enabled, and you can connect them directly to you iPhone or other Bluetooth enabled device for the best in sound streaming and connectivity.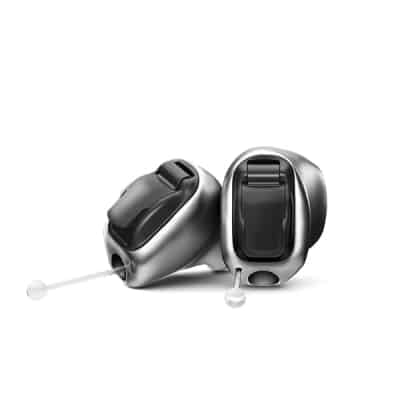 Virto B - Titanium
Another innovation from Phonak is their Virto B device, made from titanium. This metal is extremely durable and strong, as well as lightweight. Titanium is often used in medical products and in high-end sports good. In the Virto B, titanium provides the best in hearing technology and durability, and the elegant design also features Phonak's signature AutoSenseOS technology.