Phonak Hearing Aids
Phonak hearing aids are designed to automatically adjust to the listening environment, and their latest AutoSenseOS 3.0 program works to provide the best combination of programs and settings for the sounds around you. Phonak is known for delivering exceptional sound quality from the very first fitting, and amazing speech understanding in even the toughest listening environments. You'll enjoy reduced listening effort as the Phonak platform analyzes the environment and helps you focus on the sounds that are important.
VIEW HEARING AID STYLES
CROS Paradise (BTE)
There's nothing like the sound of Paradise
CROS transmits sound and voices from one side to the other, so your strong hearing ear can hear for both ears. When CROS P is paired with a Phonak Audéo™ Paradise hearing aid, it helps people with unilateral hearing loss hear speech clearly and follow conversations from all directions.
Follow conversations in quiet and noisy surroundings without having to reposition yourself
Hear speech from the side with hearing loss better, even when in noisy environments
Gain greater awareness of sounds from the side with hearing loss
Features
Designed specifically for unilateral hearing loss
Proven Paradise performance
Universal connectivity to smartphones, TV, Roger™ microphones, and more
Hands-free phone calls with own voice pick-up
Easy to use
Two models to choose from: rechargeable and replaceable zinc-air battery operated
Naida Paradise (BTE)
Naída Paradise is a behind-the-ear hearing aid that features next-level powerful sound and connects to smartphones, apps, TVs, and more.
Delivers powerful sound with Speech Enhancer, Dynamic Noise Cancellation, Motion Sensor Hearing, and more
Connects to and seamlessly switches between smartphones, TVs, and other media sources
Fine-tunes sound settings and customizes programs in the myPhonak app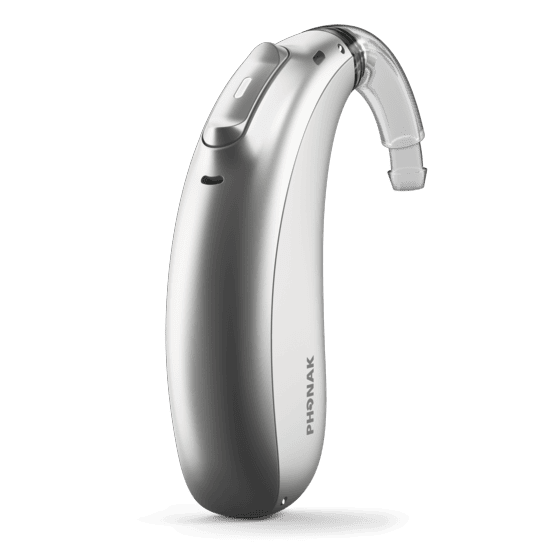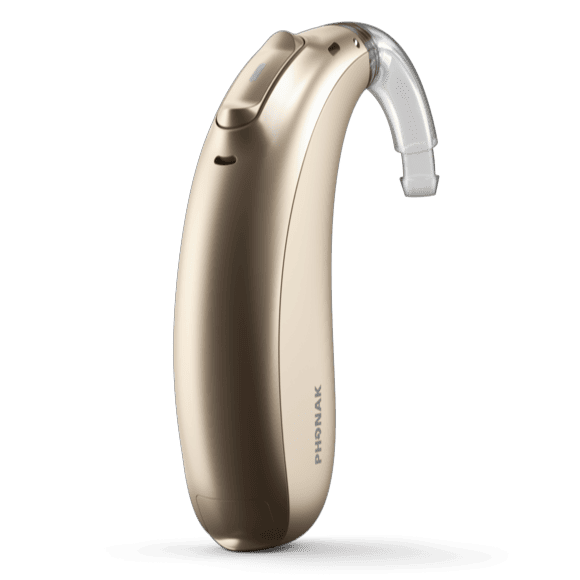 Naida Link Marvel (BTE)
Naída Link M is a powerful behind-the-ear hearing aid designed for severe to profound hearing loss. This unique bimodal hearing aid can be paired with an Advanced Bionics sound processor if your hearing loss progresses and you require a cochlear implant.
Delivers powerful, rich sound
Connects to smartphones, TV, and more
Resistant to dust and water
Replaceable battery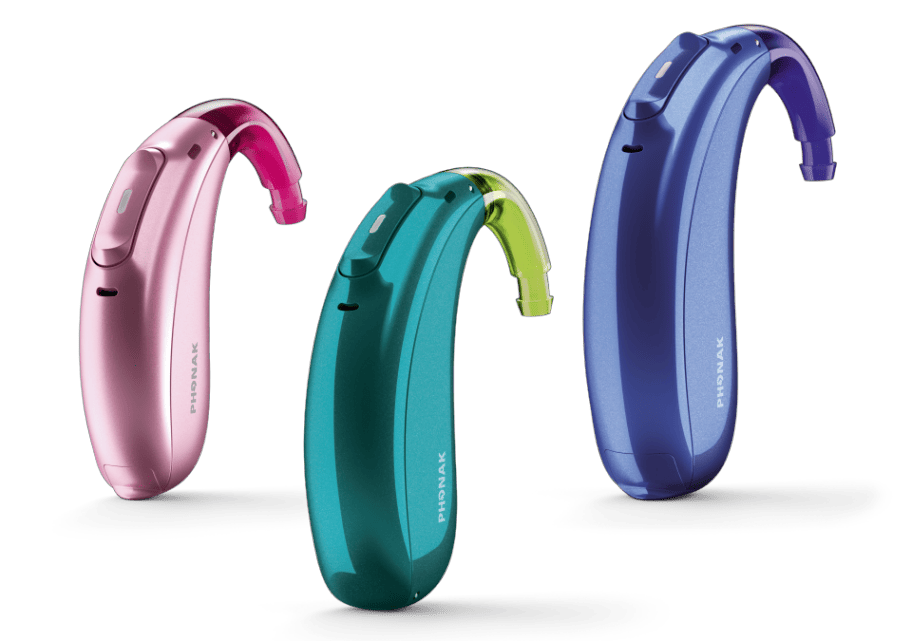 Sky Marvel/Sky Link Marvel
The Sky Marvel family gives children with hearing loss access to clear, rich sound, helping them thrive and engage with the world around them.
Hearing aids for kids
Comfortable and safe to wear all day
Tamperproof ear hook and battery door, and rechargeable battery option
Customizable mix-and-match colors
Connects directly to smartphones, Bluetooth® enabled devices and Roger
Compatible with myPhonak Junior app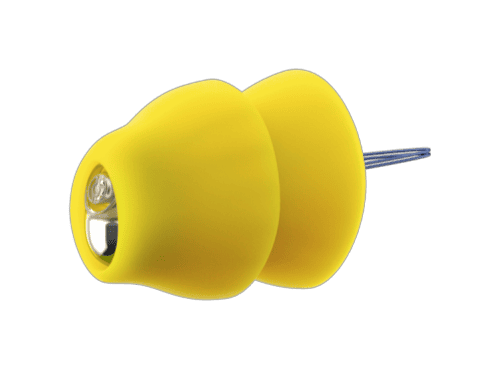 Lyric
While traditional hearing aids capture and process sound outside of the ear, Lyric uses the natural anatomy of the ear to amplify sound and give you a full, natural listening experience.
The heart of Lyric is stored safely inside soft, biocompatible foam seals that conform to the ear canal and ensure natural ventilation and stable placement. The battery is specifically designed to withstand the deep ear environment for months at a time. Lyric amplifies sounds using the natural mechanisms of the ear, and its microphone and receiver further enhance this effect.
Lyric requires no maintenance or batteries to change or charge.
They are designed to be worn 24 hours a day for months at a time.
Reduces tinnitus annoyance faster than daily-wear hearing aids.
Improves sleep quality.
Completely invisible when worn.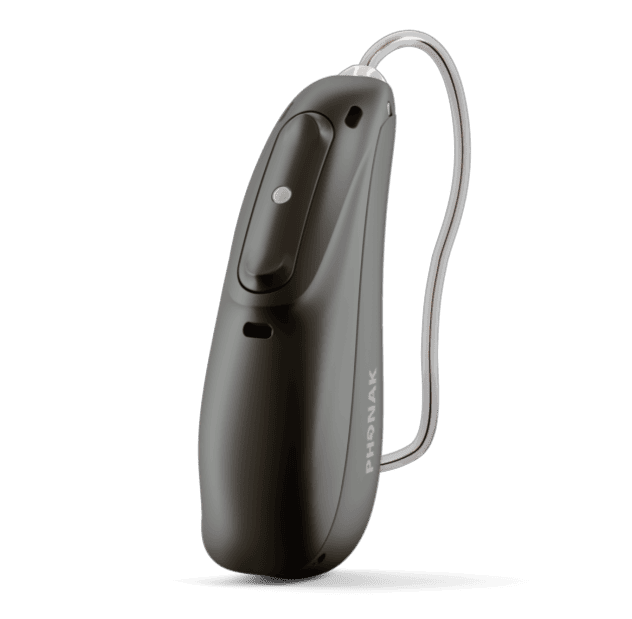 Audeo Lumity (RIC)
Audéo Lumity focuses on giving you improved speech comprehension with its unique Phonak SmartSpeech Technology so you can enjoy conversations in many challenging listening situations.
Easier hearing in many situations
Universal connectivity
Health data tracking
Fully rechargeable product range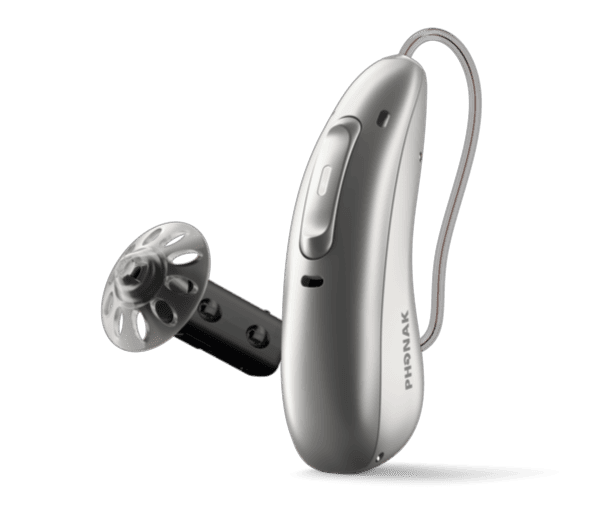 Audeo Fit
One of Phonak's most innovative designs, the Audéo Fit goes beyond hearing improvement and brings a more holistic health functionality to your hearing aids.
Build healthy habits by tracking distance and steps, activity levels, average wearing time, and heart rate in the myPhonak app
Connect to smartphones, TV, Roger™ devices, and more with Bluetooth® connectivity
Unrivaled sound quality, crisp natural sound, and brilliant speech comprehension
Includes two performance levels to best suit your lifestyle needs: Premium (P90) and Advanced (P70)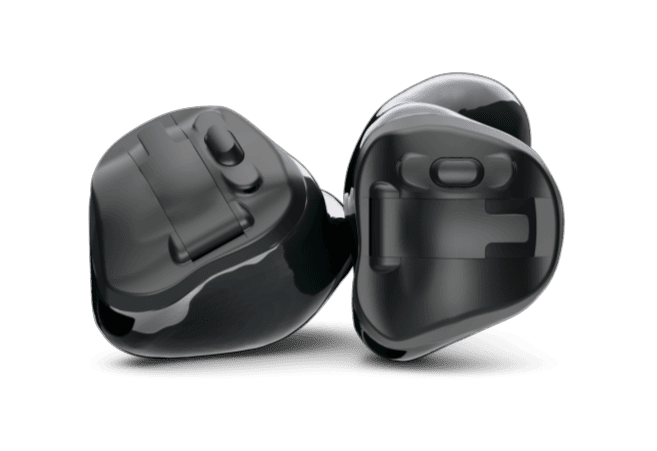 Virto Paradise (ITE)
Virto Paradise is custom-made to fit the exact shape of your ears to provide unrivaled sound quality for your everyday listening needs. Plus, Phonak Virto P-312 provides universal connectivity, which allows you to seamlessly stream audio content from numerous Bluetooth-enabled devices.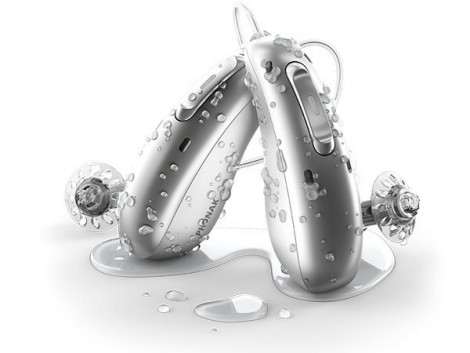 Audeo Life
The world's first waterproof rechargeable hearing aid, Audéo Life combines the hearing performance of Audéo Paradise with a robust new housing that provides additional protection from water and sweat. Audéo Life delivers crisp natural sound and is capable of being submerged in up to 50cm or 1.64 feet of fresh, pool, or salt water.
Waterproof
Sweatproof
Health data tracking
Rechargeable
Crisp natural sound
Empowering smart apps
Universal connectivity to smartphones, TV, Roger and more
Multiple Bluetooth® connections
Tap Control for easy access to Bluetooth capabilities