Signia Hearing Aids
Signia designs their hearing aids to deliver the best in natural sound and are taking it to a whole new level by pioneering a way to hear the familiar sound of your own voice without any distortions. Hearing aid users often comment that their devices create distortion or discomfort when listening to their own voice, and Signia uses the Own Voice Processing system to provide the best in natural sounding voice. Signia's devices also have connectivity features to directly stream phone calls, music, and other audio right to your ears. You'll have the best in sound quality, improved spatial awareness, and better speech understanding in noise.
VIEW HEARING AID STYLES
---
---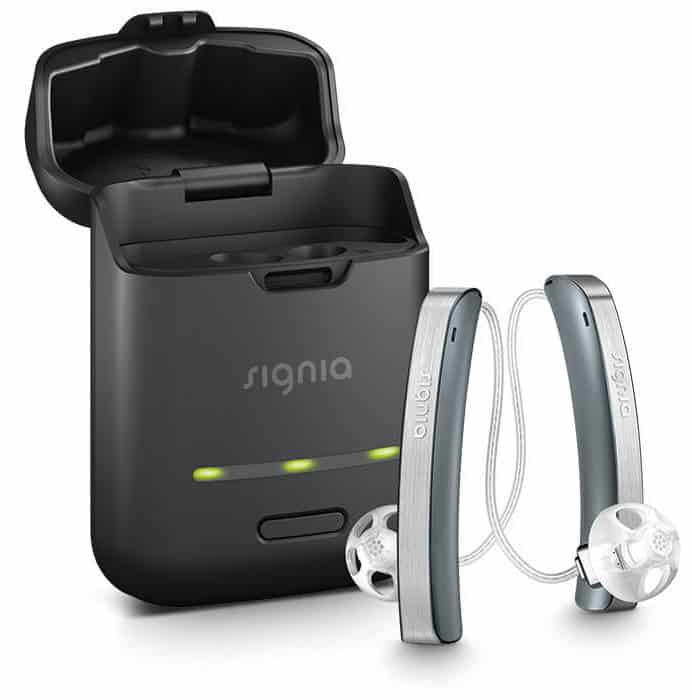 Styletto SLIM-RIC
Signia's latest hearing aid, the Styletto SLIM-RIC is changing the image of hearing aids. These sleek, stylish devices are a favorite among hearing aids wearers, and combine an innovative new look with powerful devices. Their unique shape has hearing aid wearers excited for the future of hearing technology. Another feature that makes the Styletto so popular is the charging-on-the-go ultra-slim charging case that allows you have the best rechargeable hearing technology without needing to worry about being plugged in. You'll have a full day of hearing from one charge, and with the portable charging case, you'll have four days of hearing, along with streaming, without needing to worry about remembering your cables or finding a plug.
Signia Nx
The Nx platform by Signia works with the Own Voice Processing system to provide the best in hearing. It's based on the Ultra HDe2e binaural link that scans the environment, and has a continuous audio exchange between the ears to provide the best in spatial awareness and own voice recognition. This creates a natural sound, and allows the devices to process your own voice separately from all other sounds, and other voices. Signia's Nx devices also feature Bluetooth connectivity, and you can easily stream TV audio, music, and phone calls right to your ears for the best in sound quality and speech understanding.