Signia Hearing Aids
Signia designs their hearing aids to deliver the best in natural sound and are taking it to a whole new level by pioneering a way to hear the familiar sound of your own voice without any distortions. Hearing aid users often comment that their devices create distortion or discomfort when listening to their own voice, and Signia uses the Own Voice Processing system to provide the best in natural sounding voice. Signia's devices also have connectivity features to directly stream phone calls, music, and other audio right to your ears. You'll have the best in sound quality, improved spatial awareness, and better speech understanding in noise.
VIEW HEARING AID STYLES
AX Platform
The world's first custom hearing aids with contactless charging and Bluetooth connectivity is also tailor-made to suit each wearer's individual ear anatomy. The custom, slightly smaller design offers all-day comfort with high-tech features. Enhance your human performance each day with these key features:
Outstanding speech clarity

Customized fit

Contactless rechargeability

Android & iPhone connectivity

AI Assistant
Hear the Difference: Signia Augmented Xperience
Signia's groundbreaking Augmented Xperience (AX) platform changes the way you hear the world. The first and only platform with revolutionary Augmented Focus™ technology. Clinically proven benefits include split processing.
More than 25% of participants reported better speech understanding in noise compared to own hearing aids (1)
95% of participants reported exceptional speech understanding in their home environment (2)
---
Signia White Paper. Based on transformation of the 1.8 dB SNR improvement using a value of the slope of the psychometric function (Wagener & Brand, 2005)

Signia White Paper. 18/19 participants had a mean rating of speech intelligibility-related questions of more than 8.0 and 9.0, respectively
Insio Charge&Go AX
Insio Charge&Go AX is the first custom hearing aids with contactless charging and Bluetooth. Signia's new rechargeable Insio Charge&Go AX ITC and ITE models redefine what custom hearing aids can offer experienced wearers.
Insio Charge&Go AX hearing aids are built on Signia's leading-edge Augmented Xperience platform to deliver outstanding speech clarity in an immersive environment. They even include a motion sensor to adapt their sound optimally to the wearer's situation by detecting if they are moving or stationary.
Insio Charge&Go AX are the first custom hearing aids with contactless charging. Wearers simply place Insio Charge&Go AX in the Insio Charger without having to worry about any exact charging contact, charge them while resting or sleeping, and then go – true to their name. And keep going throughout the day with up to 20 hours2 of use on a single charge.
Signia XPerience Platform: Crystal-clear sound in every situation. Whether you're in a crowded street, working in an open-plan office, or dining in a busy restaurant, wherever there's a high level of ambient noise, holding a conversation requires concentration and effort. Silk X tackles these challenges expertly with the true-to-life sound of Signia Xperience. So you hear what matters to you. All day long, in every situation.

One of the world's smallest hearing aids, Silk gives you the confidence of knowing that no one even notices you're wearing them. All models sit discreetly inside your ear. The only ready-to-wear CIC available on the Signia Xperience platform delivers clear speech understanding in an ultra-discreet size with instant fit. Thanks to its flexible silicone Click Sleeves, Silk X sits securely in the ear for a brilliant fit on the spot.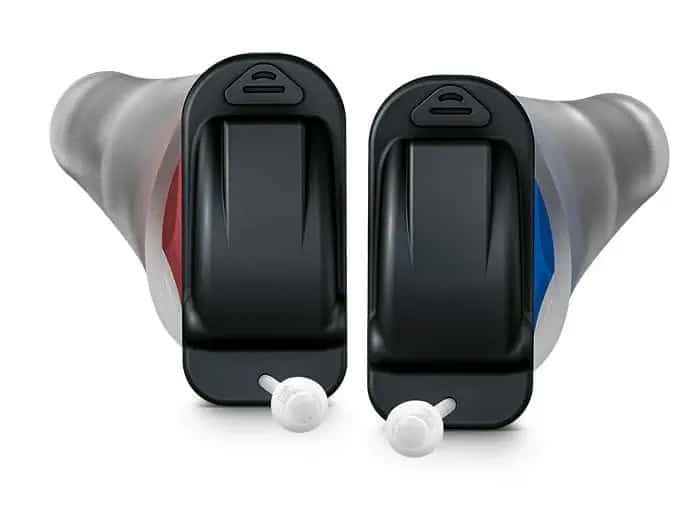 Tailor-made without the wait: Silk X is fitted with highly adaptable soft-silicone Click Sleeves that simply click onto the hearing aids to ensure a level of comfort and secure fit in your ear previously only available with custom-built housings. The sleeves come in 4 different sizes suitable for most ear anatomies and hearing needs so there is no wait as with other in-the-ear devices.
Perfectly positioned for phone calls and music: Unlike hearing aids that sit behind the ear, Silk X's microphones pick up sound inside the ear canal. This enables you to make phone call and listen to music in the way you are used to, including with over-ear headphones. Silk X hearing aids are the ultimate nearly invisible ready-to-wear hearing solution to keep your hearing loss hidden.
Personal support at your fingertips: Thanks to Signia's TeleCare remote support, you can get direct help from your hearing care professional via the Signia app on your smartphone. Wherever you are. You can control the volume and other settings discreetly via the Signia app or the miniPocket on your key ring.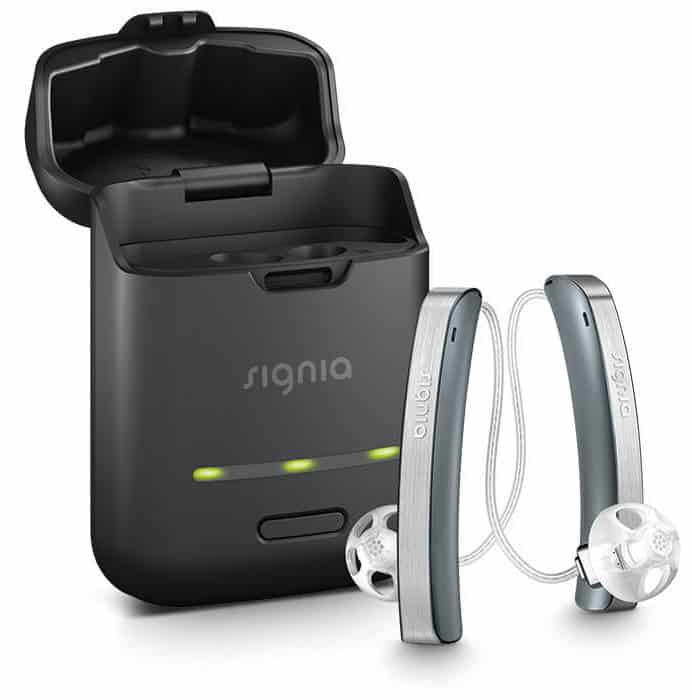 Styletto SLIM-RIC
Signia's latest hearing aid, the Styletto SLIM-RIC is changing the image of hearing aids. These sleek, stylish devices are a favorite among hearing aids wearers, and combine an innovative new look with powerful devices. Their unique shape has hearing aid wearers excited for the future of hearing technology. Another feature that makes the Styletto so popular is the charging-on-the-go ultra-slim charging case that allows you have the best rechargeable hearing technology without needing to worry about being plugged in. You'll have a full day of hearing from one charge, and with the portable charging case, you'll have four days of hearing, along with streaming, without needing to worry about remembering your cables or finding a plug.
Signia Nx
The Nx platform by Signia works with the Own Voice Processing system to provide the best in hearing. It's based on the Ultra HDe2e binaural link that scans the environment, and has a continuous audio exchange between the ears to provide the best in spatial awareness and own voice recognition. This creates a natural sound, and allows the devices to process your own voice separately from all other sounds, and other voices. Signia's Nx devices also feature Bluetooth connectivity, and you can easily stream TV audio, music, and phone calls right to your ears for the best in sound quality and speech understanding.