Oticon Hearing Aids
Oticon is a favorite among hearing aid wearers, and it's not hard to see why. Their latest family of hearing aids, the Opn devices are revolutionizing how hearing aids work, and they provide the best in clear, natural hearing and effortless listening. Oticon is known for their BrainHearing technology, which focuses on helping your brain hear in every situation. Along with amplifying the sounds your ears can hear, Oticon's technology works to reduce listening effort by sensing the sounds in the environment, and providing an effortless, stress free listening experience. Oticon devices can be easily controlled from the ON App, allowing you to adjust the volume, change programs and settings, monitor the battery life, and even access professional advice about your device, all from the palm of your hand.
VIEW HEARING AID STYLES
---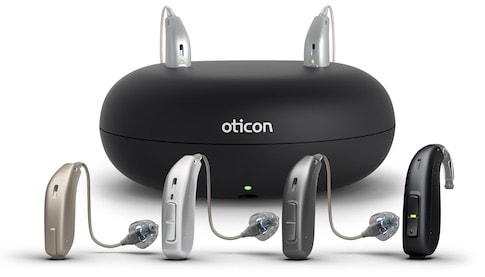 Opn S
The Opn S is one of Oticon's newest devices, and runs on their Velox S platform, giving open sound as well as full wireless connectivity. The rechargeable battery means you won't have to fiddle with small batteries or tricky battery doors, and can enjoy clear hearing after just a few hours of charging, without worrying about running out of power. You can even do a quick charge, and after 30 minutes of charging you'll have 5 or 6 hours of clear hearing. The OpenSound Navigator works with the OpenSound Optimizer to give the best sound experience, and allow you to hear speech easily in every environment.
Unlike some hearing aids, which select one voice to focus on, and reduce all other sounds, making it difficult to switch between speakers, the Opn design is all about giving you're the most natural hearing. You'll be able to hear multiple speakers even when you're in a noisy environment, and you will have the power to shift what you're paying attention to. The platform analyzes the sounds around you at top speed, and you can easily shift your focus back and forth between multiple speakers.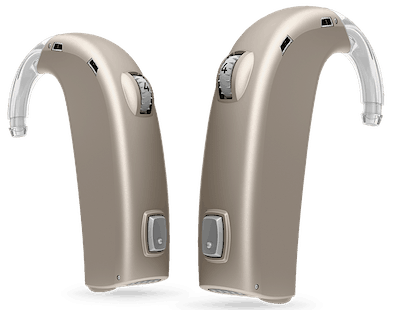 Dynamo
Dynamo for Oticon is an extremely powerful device that will help you hear, whatever your level of hearing loss. If you have severe or profound hearing loss, Dynamo will help you overcome your hearing challenges, and enjoy natural hearing.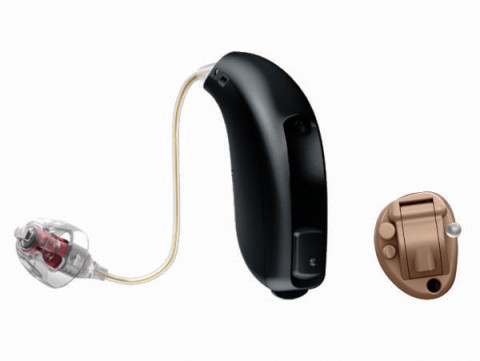 Alta2
The Alta2 is all about the brain, and uses BrainHearing Technology as well as Tinnitus therapy to help your brain hear, providing natural sound in any listening environment.