Oticon Hearing Aids
Oticon is a favorite among hearing aid wearers, and it's not hard to see why. Their latest family of hearing aids, the Opn devices are revolutionizing how hearing aids work, and they provide the best in clear, natural hearing and effortless listening. Oticon is known for their BrainHearing technology, which focuses on helping your brain hear in every situation. Along with amplifying the sounds your ears can hear, Oticon's technology works to reduce listening effort by sensing the sounds in the environment, and providing an effortless, stress free listening experience. Oticon devices can be easily controlled from the ON App, allowing you to adjust the volume, change programs and settings, monitor the battery life, and even access professional advice about your device, all from the palm of your hand.
VIEW HEARING AID STYLES
Oticon Own
There's no one-size-fits-all solution for hearing loss because no two ears are the same. Introducing the new Oticon Own – a discreet in-the-ear hearing aid developed to provide superior sound quality and optimal comfort. It is fully customizable to fit all your hearing needs while boasting ultimate discreteness and minimal visibility. Through learned experiences, Oticon Own is the world's first in-the-ear hearing aid that works to process sound in the manner our brains do.
Discreet hearing aids made to match your style
Because each person's hearing requirements and lifestyles differ, Oticon Own is made to meet your specific needs - offering you full customization. They are designed to conform to the exact dimensions of your ear anatomy, while a wide range of aesthetic options are available to satisfy everyone's personal tastes.
Choose from five styles and five colors to match your individual preference
An IIC offering maximum discreetness and is completely invisible when worn by 9 out of 10 ears
Custom-made and tailored to perfectly fit your ear's unique dimensions for all-day comfort
Oticon Own is designed to be completely unnoticeable so that you may shine your brightest.
A brain-friendly in-the-ear hearing aid
Did you know that you hear with your brain and not your ears? Your ears receive and transmit frequencies, but it's actually your brain that processes these signals into comprehensible information we know as sound. Healthy brains that regularly receive accurate stimulation are significantly at lower risk of developing other detrimental cognitive conditions. In fact, a 25-year study found that people with hearing loss who didn't treat their condition with hearing aids had a higher risk of developing dementia compared to those wearing hearing aids.
Our
BrainHearing™ technology
makes Oticon Own a unique in-the-ear hearing aid designed to provide you with access to a broader spectrum of sound to reinforce your brain's natural functions. This offers you a truly personalized listening experience, allowing you to process everything more effectively, making it easy to follow the conversations and enjoy activities you love.
Trained with real-life sounds for a natural listening experience
Oticon Own is the world's first in-the-ear hearing aid with an onboard
Deep Neural Network (DNN)
*. What does this mean? This technology provides you access to a wider sound stage and reduces listening effort.
We trained the DNN on 12 million real-life sounds to give your brain more of the information it needs to make sense of incoming sounds. This means that even when you're in a complex listening environment - like a restaurant or a meeting at the office - Oticon Own will help you hear the sounds you need to hear and reduces your listening effort, so it's easier for your brain to focus on other tasks.
Stay connected to what matters most
Whether it is with friends, family, or colleagues, staying connected is paramount. That's why Oticon Own in-the-ear hearing aids were made to seamlessly connect to your favorite devices so you can confidently go through your day with ease and convenience.
Direct streaming features two-way hands-free communication from select iPhone® and iPad® devices.
Direct streaming with select Android™ smartphones
Stream sound directly from your TV with Oticon's TV adapter
The Oticon ON app offers easy, discreet control of hearing aid settings at your fingertips
Stream sounds seamlessly from compatible Bluetooth® devices with ConnectClip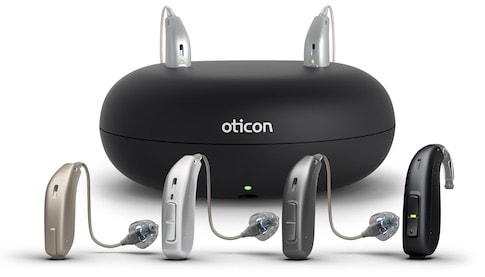 Opn S
Oticon Opn S hearing aids help you break free of restrictions to easily join the conversation in difficult listening environments.
Different Opn S Models
miniRITE R: Opn S miniRITE R is a state-of-the-art rechargeable hearing aid that sits discreetly behind the ear. With an easy-to-use charger, this style offers a wealth of features and functions, including 2.4 GHz wireless technology.
miniRITE: Opn S miniRITE has a discreet design with a single push button for easy operation of volume and programs. The miniRITE has 2.4 GHz wireless technology, as well as a wide variety of other features.
miniRITE T: Opn S miniRITE T incorporates telecoil technology and a double push-button into a sleek design. Use wireless telecoil technology wherever a loop system is installed to deliver sound directly to your hearing aids.
BTE PP: The powerful Opn S BTE Plus Power delivers sound access to users with severe-to-profound hearing loss. It features 2.4 GHz wireless technology, telecoil support, and extended battery life in a compact design.
A full day's power. Every day.
The Opn S miniRITE R offers the convenience of rechargeable batteries, a groundbreaking open sound experience, and outstanding connectivity to other devices. This discreet hearing aid comes with a sleek and stylish charger and long-lasting rechargeable batteries.
Enjoy speech comprehension on par with normal hearing
The biggest challenge for people with hearing loss is understanding speech in noisy environments when multiple people are speaking at the same time. Oticon Opn S breaks the limits of what you thought hearing aids were capable of. Proven to provide even better speech understanding with less listening effort in noisy environments than our previous generation of hearing aids, Opn S lets you take an active role in difficult listening situations – just like people with normal hearing.
Oticon Opn S gives you a surround-sound experience, with focus on one to multiple speakers
Previous hearing aids dealt with noisy environments by focusing on just one speaker, such as a person right in front of you, while suppressing all other sounds. The technology in Oticon Opn S gives you access to all the relevant sounds around you, including speech, and puts you in charge of which sounds you want to focus on.
The result of this life-changing technology is that you will understand speech even better and with less effort. Now, you can easily participate in and keep up with group conversations – even in challenging listening environments, like a family dinner or a restaurant.
Easy connection to your phone and other devices
Oticon Opn S is more than a hearing aid. It's wearable technology that makes it easy to connect to your favorite devices.
Hands-free phone calls from any modern smartphone: ConnectClip makes it easy to make hands-free calls. It transmits the caller's voice to your hearing aids, while the built-in microphone clearly transfers what you say to the caller.
Stream music in high-quality stereo sound: Your hearing aids become high-quality, wireless headphones, streaming music directly from iPhones, iPads, or iPod touch. Other Bluetooth-enabled devices can stream via the wireless ConnectClip.
Stream sound from your TV: Stream sound from your television directly to your hearing aids using the Oticon TV adapter. Now you can enjoy your favorite programs at the volume you choose.
Boost your hearing with the Oticon ON App: The Oticon ON App lets you control your hearing aids with the tap of a finger. Get access to an almost limitless range of connectivity options and functionalities.
With Oticon Opn S, whistling is a thing of the past
Feedback is an annoying whistle that occurs when sound from your hearing aid escapes and is amplified again. It usually occurs when something comes close to your hearing aid, like when you hug someone or put your phone to your ear. It's a problem that has been difficult to address – until now.
A new breakthrough technology in Oticon Opn S stops feedback before it even occurs. Now, you can give someone you love a hug without worrying about whistling sounds from your hearing aids.
Features that expand your Opn S experience
Oticon devices connect to the Internet via the If This Then That network (IFTTT.com). IFTTT is an ever-expanding Internet-based service that enables you to integrate your hearing aids with a range of products and solutions, like home appliances, lighting systems, email accounts, calendars, and more.
Tinnitus Relief
Take back control of your life and manage tinnitus symptoms with Tinnitus Sound Support™. This feature offers a variety of masking sounds that provide relief from symptoms, including popular ocean-like sounds that can be customized to fit your hearing needs.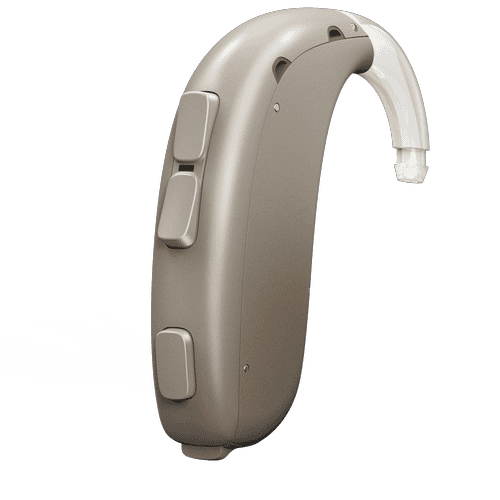 Oticon Xceed
People with severe to profound hearing loss rely on hearing aids to get through each and every day, and it can be extremely challenging to follow the conversation with a group of friends, family members, or colleagues. If several people are talking at once, it becomes harder and even more tiring to make sense of the dialogue. With the new groundbreaking technology in Oticon Xceed, you will now have the support you need to actively take part in these situations without having to rely on guessing and lip reading. Oticon Xceed opens up your world like never before. Additionally, Oticon Xceed is available in two styles and seven different colors to match your skin tone or hair color.
Enjoy access to speech from all directions: Oticon Xceed is the only power hearing aid that offers the open sound experience.
Say goodbye to annoying whistling: Feedback cancellation technology prevents whistling for clear, stable speech amplification.
Connect to your everyday life: Connect wirelessly to any modern smartphone and a wide range of accessories.
Proven BrainHearing technology: Provides better speech clarity with less listening effort.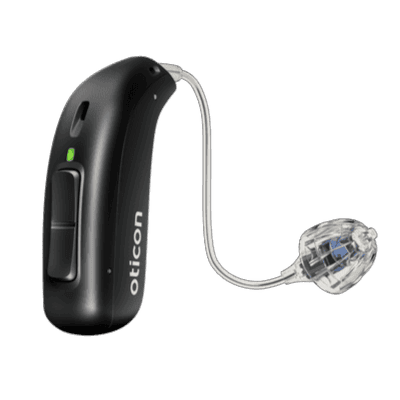 Oticon Zircon
Offering a choice of rechargeable or non-rechargeable styles, the Zircon family provides a range of hearing aids that meet your needs.
Comes in two performance levels
Compatible with Oticon CROS PX and Oticon CROS, for single-sided deafness
Includes an extensive range of connectivity options like ConnectClip and the Oticon ON app
Available in five colors
OpenSound Navigator allows focus on one speaker or speech from all directions
BrainHearing technology provides better speech clarity and reduced listening effort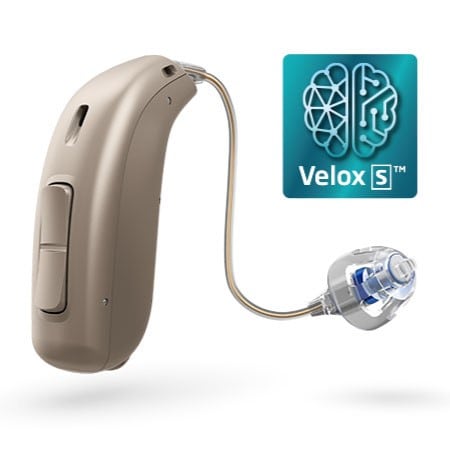 Oticon CROS
Imagine sitting in an important meeting and not being able to pinpoint who is talking or having to choose between hearing the TV at a party for a sporting event versus talking with other guests. If you have single-sided deafness, a condition where there is significant or total hearing loss in one ear, you face challenges like these every day. Introducing the Oticon CROS family, solutions designed specifically to help you overcome challenges like these.
The Oticon CROS solution consists of two parts:
A transmitter with a microphone that wirelessly picks up and sends the sound from your weaker ear to the stronger ear.
A hearing aid that picks up the sound from the transmitter and plays it in the stronger ear.
It can be especially challenging to follow conversations when you have hearing loss in one ear. If you have single-sided deafness, Oticon CROS PX and Oticon CROS feature advanced dual-streaming technology that allows you to enjoy wireless streaming while still accessing the relevant sounds in your environment. Now you can watch TV or listen to music while carrying on a conversation with someone on your poorer hearing side. The Oticon CROS family helps you actively engage in conversations in all types of listening environments.
Oticon CROS PX: The new rechargeable Oticon CROS PX transmitter provides a fuller, more immersive sound experience
Oticon CROS: Supports the way the brain naturally makes sense of sound.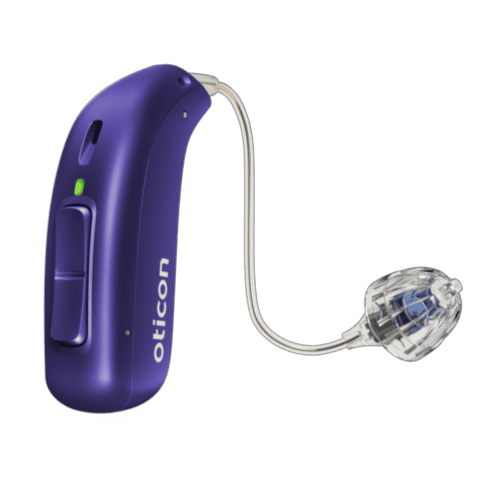 Oticon Play PX
Oticon Play PX is the world's first pediatric hearing aid with an onboard Deep Neural network (DNN) that learned the same way children learn – through experience. Play PX utilizes life-changing technology to make sure children with hearing loss have access to important sounds in their environment to help them unleash the magic of childhood.
The world's first pediatric hearing aid with an onboard Deep Neural Network (DNN): Introducing a hearing aid that learned the same way children learn — through experience.
Connectivity, Helping kids stay connected: Wireless connectivity options that make a difference in a child's ability to learn, socialize and enjoy life around them.
Rechargeability that keeps kids powered up: Offers a wide range of flexible and convenient charging solutions.
A hearing aid designed just for kids: Available in a wide range of styles and colors designed with kids in mind.
Oticon Xceed Play
The revolutionary Oticon Xceed Play is the only hearing aid on the market that gives an open sound experience to children of all ages with severe-to-profound hearing loss.
BrainHearing™ technology: It is essential that your child's hearing aid supports the way the brain naturally makes sense of sound. Oticon Xceed Play provides your child's brain with the best possible conditions to hear in a way that helps their brain learn and develop.
360° access to speech: Children with severe-to-profound hearing loss need more support to separate voices from noise. Oticon Xceed Play gives your child access to clearer speech from all directions for better listening and learning.
Prevention of whistling sounds: Groundbreaking technology in Oticon Xceed Play helps prevent feedback from happening so that your child can enjoy a clearer, more stable speech signal while perceiving up to 20% more details in dialogue, which are essential to language development.
Easy wireless connectivity: Children and teenagers with severe-to-profound hearing loss greatly appreciate features and add-ons that make their everyday lives easier by improving the sound signal to their hearing aids.