Rexton Hearing Aids
One of the core values of Rexton is that quality hearing technology should be available to everyone. They've designed a family of hearing aids that do just that, and with speech understanding, durable technology, and programs and features that can be adjusted to fit your personal needs, Rexton is living up to their goals. Speech enhancement is at the center of their operating platform, since they believe communication is the key to a happy life. Their devices also feature the Music Enhancer program for music enjoyment, as well as directionality technology.

M-Core Hearing Aids
When you trust your senses to keep you safe and sound – hearing clearly in every situation is a must. Rexton's latest generation of hearing aids use proven MotionCore technology to recognize and adapt to your environment, automatically.
They are designed to be durable, practical and easy to use. So you can rely on Rexton in any situation. With proven MotioCore technology, M-Core hearing aids can automatically recognize and adapt to your environment better than ever. MotionCore recognizes up to 20 times more individual hearing situations than previous models, so you can rely on Rexton whether you are on the job, spending time with your family, or taking a well-deserved break.
Motion Sensor: The new MotionCore platform features – among others – a motion sensor integrated into the hearing aid. Now, adding a wearer's movement into the definition of a hearing situation, MotionCore can differentiate over 120 different hearing scenarios.
Rechargeability: Most M-Core hearing aids are rechargeable so you can spare the hassle of battery changing and also do good for the environment. The hearing aids feature advanced lithium-ion technology, with up to 61 hours wear time on a single charge (depending on hearing aid model). And the stylish M-Core SR hearing aids even come with a mobile charger that carries 3 additional charges without needing a power socket.
Streaming: Audio signals from smartphones, TVs or HiFi devices can be streamed wirelessly to your Rexton hearing aids; either direct or via transmitter. Direct Audio Streaming works from iOS devices, Android devices can be streamed in combination with the Smart Mic accessory.
My Voice: Rexton hearing aids recognize their wearer's specific voice pattern and integrate it naturally into the amplification. In turn, this will enable the wearer to perceive their own voice as natural as possible.
High-Resolution Sound Pro: High-Resolution Soundpro analyzes the acoustic environment more thoroughly than ever before. And goes beyond. The motion sensor adds a totally new aspect into the definition of specific hearing scenarios. The result: a more individualized hearing experience and better sound quality than ever.
Essential E1
The Essential E1 hearing aids from Rexton deliver great sound quality for every budget. Powered using their TruCore platform, features are powerful and provide clear hearing along with connectivity features. The Voice Ranger program keeps voices sounding natural, and bandwidth compression enables great speech understanding. Finally, the Automatic Classifier scans the sounds in the environment so you won't have to constantly adjust settings. These hearing aids are comfortable and effective, allowing you to focus on the sounds you want to hear, and effortlessly enjoy conversations without being distracted by all the background noises around you.
Worried about keeping your hearing aids safe? The SecureTec IP67-rated coating on the hearing aids make them resistant to dirt, dust, sweat, and moisture, so you can have peace of mind knowing your devices won't get damaged when you're going for a run, or get caught in the rain.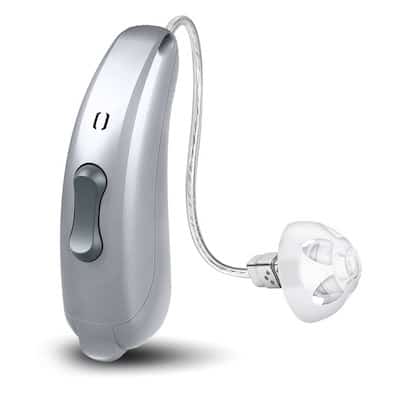 ---
Emerald S RIC
The Emerald S RIC hearing aids are one of Rexton's best loved hearing aids. They're small and comfortable to wear, but have enough power to provide a wide range of programs to suit your hearing needs. They're the perfect balance between size and battery life, and you'll enjoy clear hearing for days without needing to change the battery. With direct Bluetooth streaming, you can connect to the technology that you love, and hear clearly.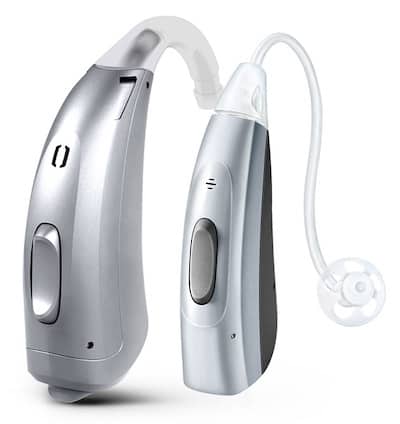 ---
Mosaic M BTE
If you've been looking for a Behind the Ear device, Mosaic is a great option that will give you reliable hearing all day every day. It fits every ear and level of hearing loss, and the programs can be customized to match your unique hearing needs. It can be controlled by either the Smart Direct App from your smartphone, or the with Smart Key Remote.