Unitron Hearing Aids
Unitron offers reliable hearing technology with ground-breaking designs. They focus on delivering beautiful devices with the best in comfort and intuitive programing, and they've earned six Red Dot Awards for their top-quality products.
With Unitron Next, spectacular speech understanding is just the beginning.
When it comes to conversations, speech understanding is just the beginning. Communication is more complex than just what is said. In order to have truly rich interactions, you need more than sounds and words. Unitron is moving beyond the words to help people capture the deeper meaning in conversations. Their unique sound technology helps people understand who is talking, where the voices are coming from, and even the intonation they're using, giving them more insight to the meaning behind the words. Plus, Unitron's new sound features help you hear better in noisy environments and make even the softest-spoken people easier to understand, and it's available in a wide range of RIC, BTE and ITE models.
The unique engine inside Discover Next helps people get to the heart of conversations. SoundCore™ delivers more than just sounds and words. It delivers key nuances of speech and environmental cues to provide a realistic hearing experience. The powerful, integrated SoundCore system enables you to understand the deeper meaning in conversations and makes Discover Next one of the world's most intelligent platforms.

With Unitron Next, you can hear your best across all listening situations with SoundNav 3.0 and can enjoy life-enriching media with the help of MediaNav. Years of training our algorithms with machine learning means this feature can identify life's ever-changing soundscapes just like a young, normal-hearing listener would. Unitron Next provides clear speech, reduced noise, and overall sound quality that's comfortably balanced in any environment with Sound Conductor. And it makes the subtle nuances of speech more pronounced so everyone – even soft-spoken people – are easier to understand with this new soft speech lift feature.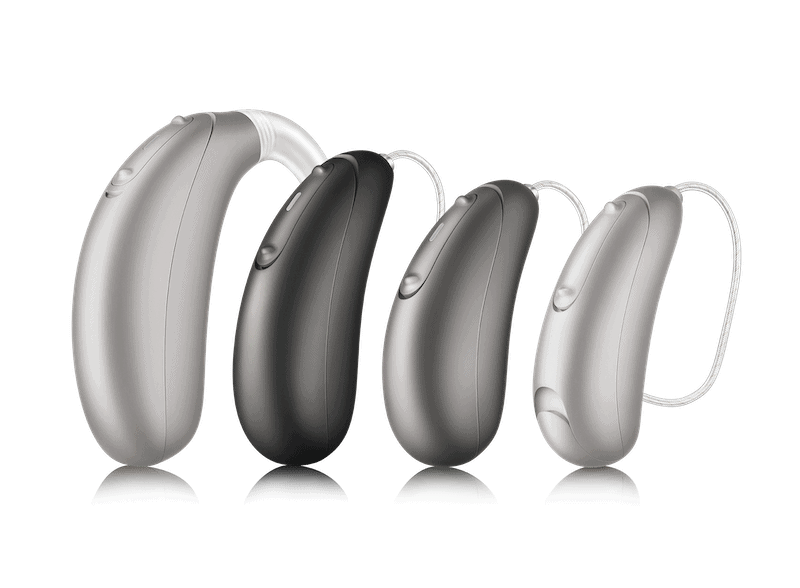 Unitron Next helps you hear speech with amazing clarity – even in noisy environments with SpeechPro. It uses binaural cues to know where speech is coming from and enhances it beyond what a typical hearing instrument can do. A new fourth dimension of SpeechPro, Spectral Speech, was designed to help you better understand words and emotions in complex listening situations.

With Unitron Next, you will enjoy a realistic sound experience because sounds can be acoustically separated and perceived in their accurate locations. This is thanks to Spatial Awareness, which brings back natural localization cues with an innovative microphone strategy. You will also enjoy easy direct connections to the people and content you love with hands-free phone calls, video calls and stereo media streaming to both ears – on all phones, with no intermediary accessories needed.Most other brands can't deliver this, and it is just one more way Unitron is helping people love their hearing experience!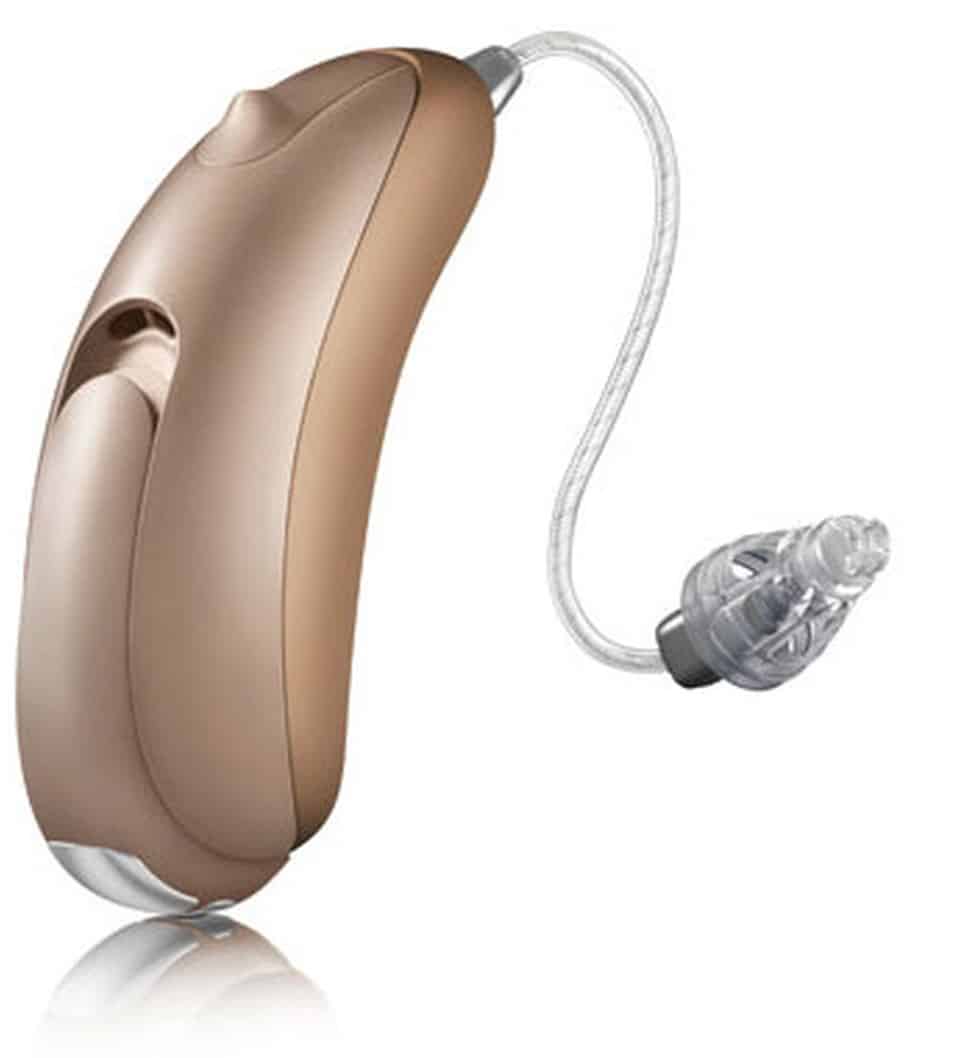 Moxi
The Moxi family of hearing aids are Receiver in Canal devices that are designed with comfort and functionality in mind, and they're sure to impress. They offer seamless streaming of all your favorite audio, and provide amazing sound quality with minimal listening effort. The rechargeable battery provides a full day of power after one overnight charge, and you'll be able to enjoy easy speech understanding and streaming without stressing about running out of power. Not only that, but one battery will last an entire year, and it's recyclable! Not only will you be enjoying great hearing, you'll be doing your part for the environment.
The Moxi Fit R is one of the smallest rechargeable hearing aids in the world, and is an excellent device for anyone looking for discreet hearing and the best in functionality. The Moxi family also includes the Moxi Jump, the Moxi Now, and the Moxi Kiss. The Moxi North is another favorite, and it's great for anyone with an active lifestyle who needs to hear in every listening environment.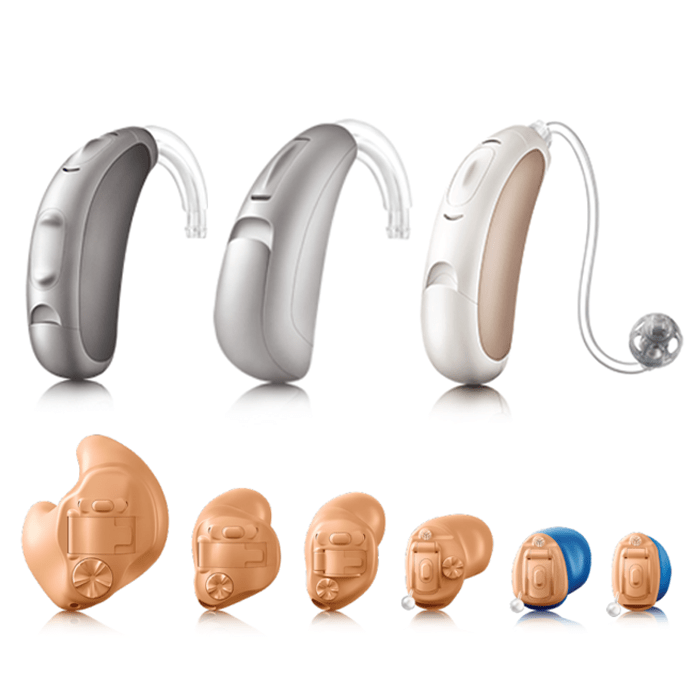 Stride
The Stride family of hearing devices from Unitron are Behind-the-Ear hearing aids that let you effortlessly follow conversations, hear in background noise, and focus on the sounds you want to hear. Just like Moxi, they're rechargeable, and you'll never need to fiddle with small batteries or battery doors again. These devices are designed to match your unique lifestyle and hearing needs, and you'll experience natural sound all the time.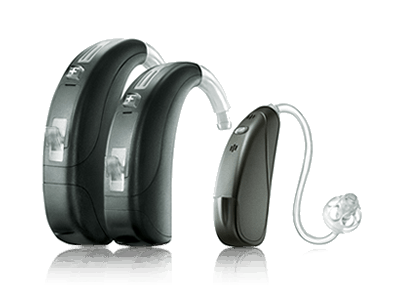 Max
For those with severe to profound hearing loss, Unitron created Max, a superpower hearing aids with five levels of technology to suit your hearing needs. It runs on the Tempus platform, and has all the features you need to hear clearly in conversations. The Classic setting is a standard model that will provide clear hearing and easy programing. The Conventional setting features signal processing, and directionality technology. Finally, the Current setting is for those who want the latest in hearing technology, with advanced programs and modern strategies to clear hearing. With Max you'll have greater spatial awareness, hear the sounds around you, focus on speech, forget about feedback, and enjoy talking on the phone.